Nordic Oddity, Pure Beauty & Woodland Vibes
Festival for Art, Music, Design & Odd Encounters

For two nights in the autumn woods by the seaside, a community, a universe reminiscent of childhood summer camps was created. A sleepover experience with 45 hours of music, art, and food for thought and soul, an urban cabin weekend in a Nordic Twin Peaks atmosphere. A weekend to remember!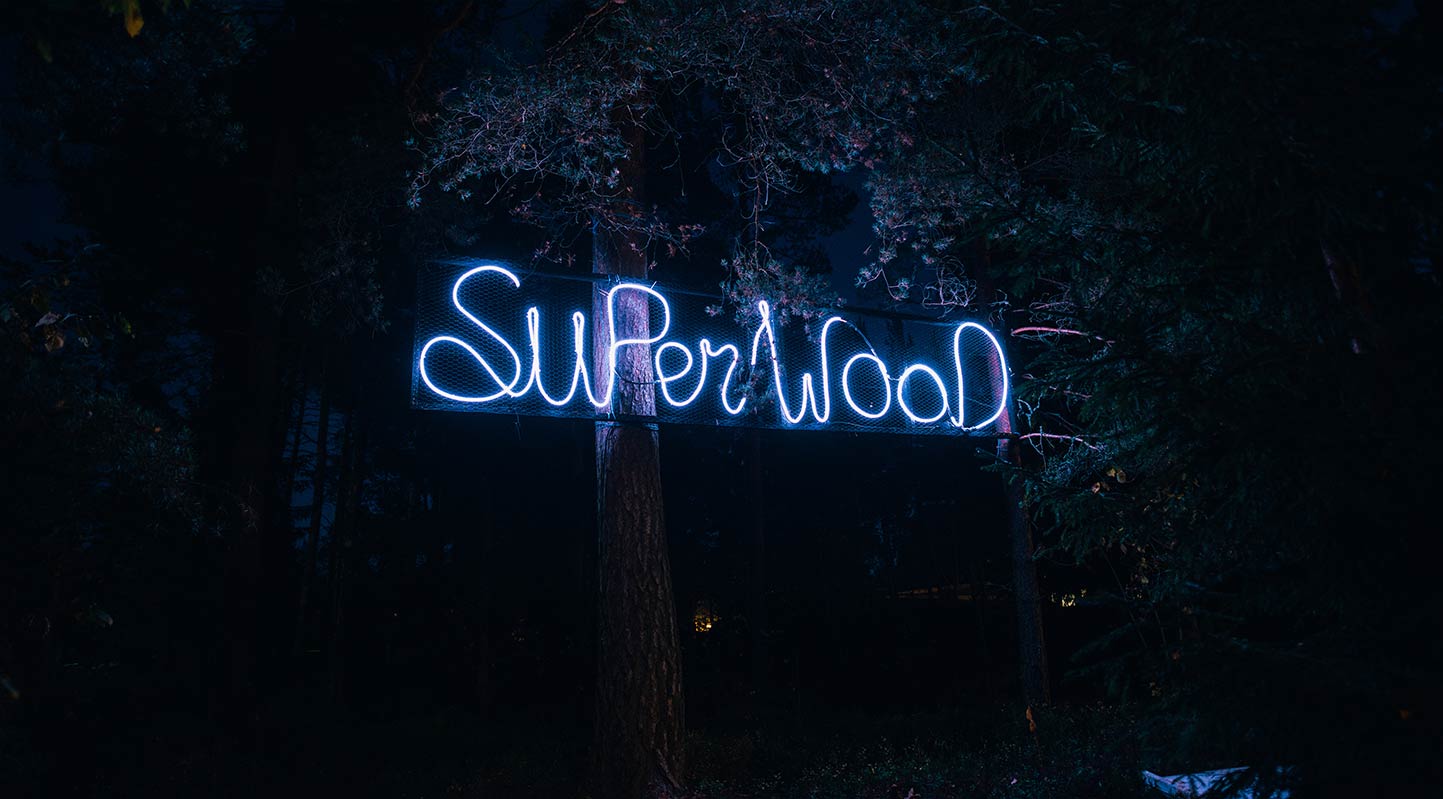 The Superwood Festival by Ivana Helsinki took place in Hotelli Rantapuisto, Vuosaari from (octobers) 2017-2022. Designed by Ragnar and Martta Ypyä, the Hotel was finished in 1963 initially as a training center for Pohjoismaiden Yhdyspankki bank. The hotel and its interior, still faithful to the original 60's wood architecture aesthetics, is as vital a part of the festival as the actual lineup.
Superwood was a totally new concept, boutique festival and event created by Ivana Helsinki.
Superwood Festival brought music, art, expert talks and vegetarian food all under the same roof.
The Superwood festival weekend was full of surprises, such as outdoor gigs and never before seen artist collaborations and opportunities to try out entirely new experiences.
WOOD TOUR
Wood Tour was a completely unique blend of music, performance art and woodland atmosphere, curated by Paola Suhonen. Magical performances in surreal set-ups by a wide variety of artists, each set designed specifically for each artist. A 2½-hour-long forest trek was a magical, dreamlike journey where revelers were surrounded by surprise performers, powerful music and impressive visuals.
ODD ENCOUNTERS
Forest yoga, running workshops, tree hugging walks, wetplate photo booth, free hair dressing saloon, coctail workshops, treasure hunting, Beer Bingo, dinner under the stars, Nordic tea ceremony, hidden poetry, natural science lectures, star gazing, audio lounge with Finnish nature voices, sauna with hot tub by the sea etc.
"People want true experiences in their lives, epiphanies and togetherness. Something that nourishes the mind and the soul. In this time, when everything is focusing on following other people's actions, the Superwood Festival brings the spectators themselves and their experi-ences into focus. It is a collective adventure that makes you feel like you're inside a movie." - Paola Suhonen-
"Stepping into Superwood was like arriving to a mystic wonderland only lasting for two days, filled with sur-real moments combining music, current talks, visual arts and vegetarian cuisine, all placed in imaginative and astonishing spots. Performances were held throughout the day, so the participants could enjoy the full ex-perience by sleeping overnight at the hotel and enjoy performances at any time. An excellent ensemble as a getaway-weekend for adults." -Nordic Style Magazine 10/2017
Superwood was supposed to be only one time adventure, but suddenly we realized we had organized it for six years. We have a break now and hope to see you someday again. Thank You for sharing the magic with us!
Superwood has hosted the following artists:
Uusi Fantasia, MC Taakibörsta, Eevil Stöö x Kube, Mikko Joensuu, K-X-P, Pykäri, DJ Kridlokk, Shivan Dragn, Hisser, Biniyam, Suad, M, Ona Kamu, Versace Henrik, Karina, Sophia Mitiku, Jori Sjöroos, Jurek, Lasse Kurki, Tomi Leppänen, Artturi Taira, Miikka Koivisto, Kalifornia-Keke, Tero Ahonen, Since November, Paleface, Anssi Kasitonni ja Kovat Piipussa, Manna, Obi Blanche, Vesta, Tuomo & Markus, New Silver Girl, Lone Deer Laredo, Jonna Tervomaa, Kuuyhdistys, Bergmania, DPPT, Sasu Kauppi, Junnu Alajuuma, Ari goes Jobba, Kississings, Kettuherrat, Maritta Kuula, Spigu, Agents, Aivovuoto, Aleksi Kaufmann, Astrid Swan, Burning Hearts, Color Dolor, Dallas Kalevala, Dino Mansik, The Duplo!, Eva+ Manu, GLDN, Ibe & Melo, Intiaanikesä, Kari Tapiiri ja Luotijuna, Kaukolampi, Kauriinmetsästäjät, Kride, Marjo Leinonen& Bublicans, Mary Ann Hawkins, Onni Boi, The Sweden, Teemu & Deathblows, Tähtiportti, Töölönketterä, Tuula Amberla, Valhe, Bini´s Disco, Boskil, Elias Gould, Janne Westerlund, Ko:mi, Kyl X Sellekhanks, Mara Balls, Minttu Vesala, Viitasen Piia, Ajatus, Angus Black, Anthuan, Ellis, The Fisherman and the Sea, Gea, Johanna Kärkkäinen, Maiju Lindell, Thelma´s Dream, Uuma, Ville Pirinen combat school, Aiccu& Maiccu, Alex Alex, Anja Snellmann, Anna Nevala, Antti Pouta, Dope Panther, Frank Joyride Official, Egs, Håkan Tyg, Hilla & Inari, Jani Toivola, Pekka Haavisto, Teemu Keisteri, Marjo Niemi, Meeri Koutaniemi, Oona K, Ruggish DJ´s Kimbo & Volium, Salmani Sisters,Teppo Vapaus, Vauhtiveikot, Fedja Kamari, Maria Veitola, Taika Mannila, Laura Friman, Mikko Mattlar, Meri & Bifu, Matti Nives, Njassa, Mellow Yellow, Alec Danger, Bizi, Ether Eye, Grandmother Corn, Hard Action, Himanen, The Holy, Kanerva, Kynnet, Lac Belot, Maarit ja Sami Hurmerinta, Meiju Suvas, The New Tigers, Nicole Willis, Nightbird, Pintandwefall, Plastic Tones, Räjäyttäjät, Rosita Luu, Saimaa, Särkyneet, Sekel, Sitoi, Sofa, Vilunki3000, Tuuttimörkö, Van Dammes, Ylva Haru, Honey B & T-Bones, Iisa, Jari Sillanpää, Antti Asplund, Kimmo Pohjonen, Sami Yaffa, Lea Laven, Litku Klemetti, Local Al, Mira Luoti, Anna Kokkonen, Arosa Ensemble, Elina Teini, Elsi Sloan, Fust!, Heiduška, Joe Henrik & Vätys, Chaos Lab, Poesia, Tuomas Norvio, Kuuhullu, Mantaray, Mirva, Olento Orchestral, Pink Chameleons, Päiviö ja Pyhä männynoksa, Radio83, Selma Juudit Alessandra, Siria & Konfuusio, Solar, Vanuke, Varvun kampi, Ylävire, Anna Perho, Antti Eerikäinen, Laila Snellman, Marko Ahtisaari, Mirkka Metsola, Nanna Susi, Nick Triani, Oona Airola, Riku & Tunna, Sara Soluié, Anni Sinnemäki, Anniina Nurmi, Marzi Nyman, Redcarpet Filmfestival, Black Lizard, Construction, Detalji, Einari Stylman, F, Folkhem, Ghosts on TV, Gim Kordon, Helsinki Panic, Joni Ekman & Siivet, Kauko Röyhkä, Marko Haavisto ja Poutahaukat, MC Koo, Midsommaren, Muska, Pesso, Pimeä Hedelmä, Risto, Rules, Saaret, Sam Shingler, Sekret Teknik, Teksti-TV 666, Tixa ja Pikkupyllyt, Yeboyah, Jukka Orma, Laura Närhi, Marita Taavitsainen, Samuli Putro, Scandinavian Music Group, Tommy Lindgren, Tuuletar, Ville Leinonen, Aaro Peltosen Mielikuvitusyhtye, Ethel Suspense, Hanna-Maria Lifländer, Isnäs, Kontio Polaris, Lauri Peisterä, Lempo, Levinsky, Liisa Maja, Maria Lentonen, Mari Sainio, Matti, My Mother was a Shaman, Nana, Rešham, Ripitori OD, Sonja Inari, The Passerines, Various Layers, Weri, Yoki, Äspee & Goldmayn, Aleksi Kinnunen, Designpoliisi, Freeman, Heli Bang Bang, Jenni Rope ja Matti Pikkujämsä, Lotta Backlund, Mai Kivelä, Mia Dillemuth, Lasipalatsi, Nick Tulinen, Otto Talvio, Sirkku ja Joose, Mikael Granvik, Reetta Ranta, Akseli Koskela, Klovneria, Marko Vuorinen, Pekka Hyysalo, Metsäheikki, Taru Samola, Andy McCoy, Antti Autio, Anna Inginmaa & Pekka Laine, AT´s Roots & Ramblin, Bobby Oroza, Brother Alfred, Donna and The Dynamiters, Eini, Elmeri, Hassan Maikal, Jaakko Eino Kalevi, Janne Masalin, Liisa Akimof, Maukka Perusjätkä, Nomi, Nuuksio, Oakahtoakseh, Pasa, Pekka Nisu, Pietarin Spektaakkeli, Sepikka, Caron Barnes, Emma Salokoski Voices, Ville Hyvönen, Jukka Tolonen,Walzer-Gullichsen Geländewagen co-trip, Ensio & Kusiset Tassut, Killbeams, Ministeri, Minä ja Syvempi Yhteys, Soulkelp, Nuutinen, Nössö Nova,Oskari Muro, Platronic, Som Djur+ VJ kangastus, Säädöt, the Southgates,Tres Caballeros, Tuhka, Winter Witch, Cosmic Turtle, Dome Karukoski, DJ Double Denim, Pasi Kostiainen, Tia Ottman, Paola Suhonen, Hanne Nuutinen, Johanna Blomqvist, Liike, Maija Kaunismaa, Olli Happonen, Marko Rantanen, Mikko Ijäs, Stina Hiltunen, Marko Lönnberg & many more